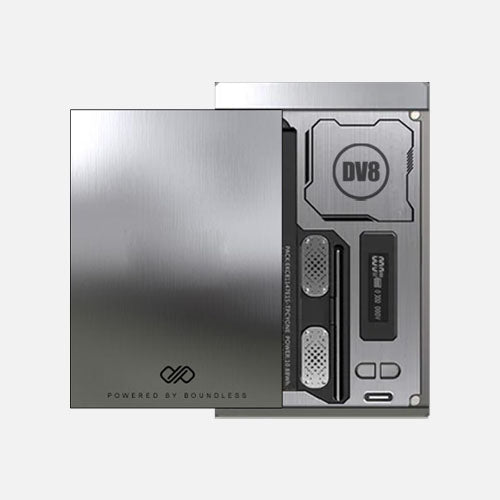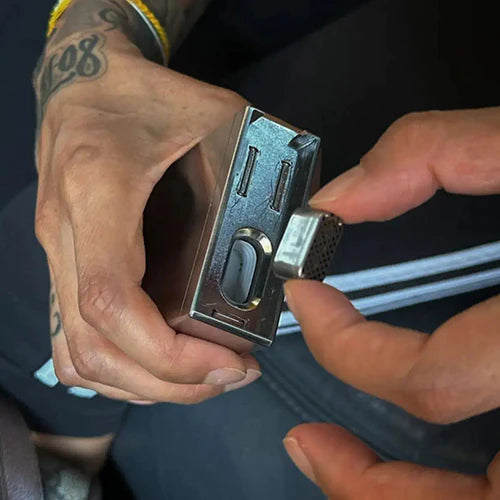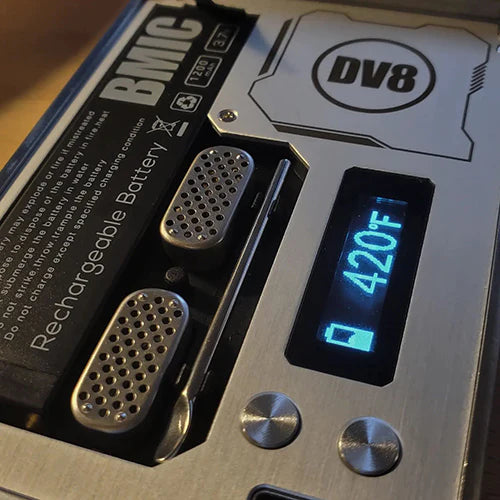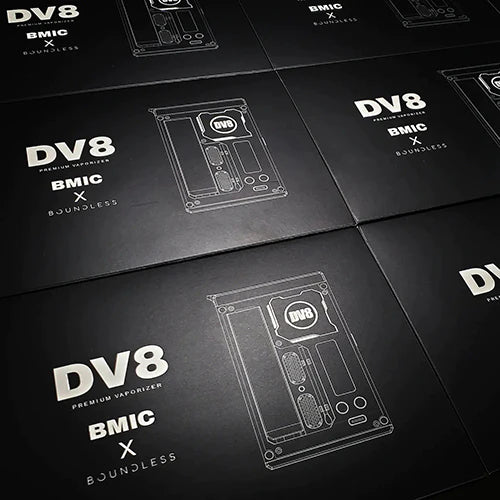 DV8 | BMIC/Boundless

In-Stock and Ready to Ship
Powered by Boundless Temperature Control Tech | Finish: Electro-Plated / Semi-Polished
We teamed up with Vape Industry Leader, BMIC, to bring you DV8. Combining their heavy-duty yet sleek with our temperature-control technology, they deliver an advanced vaporizer like no other. Equipped with an innovative heating system and proprietary ceramic chamber, it guarantees even heat-distribution which ensures optimal THC extraction while preserving the flavors of the Terpenes. A user-friendly interface offers convenience and efficiency.

Quick tips for optimal vapor/flavor
1) Our personal sweet spot is around 425-435°F
2) Long-slow pulls are more optimal than short-fast ones and will produce more vapor
3) Wait 20-30 seconds to allow the oven to be filled with hot-air before vaping
For more tips, check out their Guide to Vaping Cannabis
1 x DV8 Vaporizer
1 x Back-Cover
1 x Lipo-Battery
1 x Zirconia Drip-Tip
1 x Cleaning Brush
1 x Stir-Tool
1 x USB-C Charge Cable
5 x SS Chamber Screens
5 x SS Mouthpiece Screens
5 x SS Storage Pods
Full-Range Temperature Control up to 464°F
Hybrid Heating (convention & conduction)
Ceramic Chamber
Zirconia Drip-Tip (magnetic)
5-6 Sessions per/charge
40 Minutes to fully charge
Heavy-Duty Enclosure
Full-Metal Casing
On-Board Storage Pods & Stirl Tool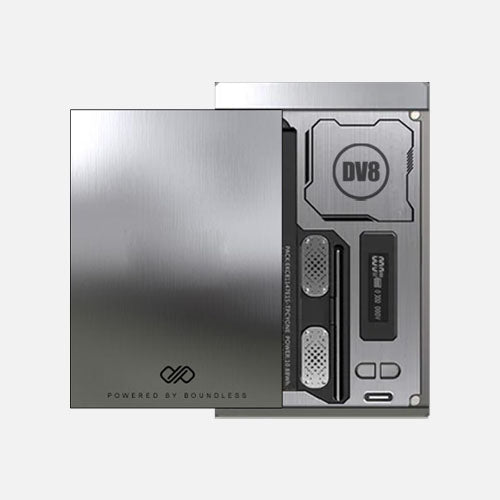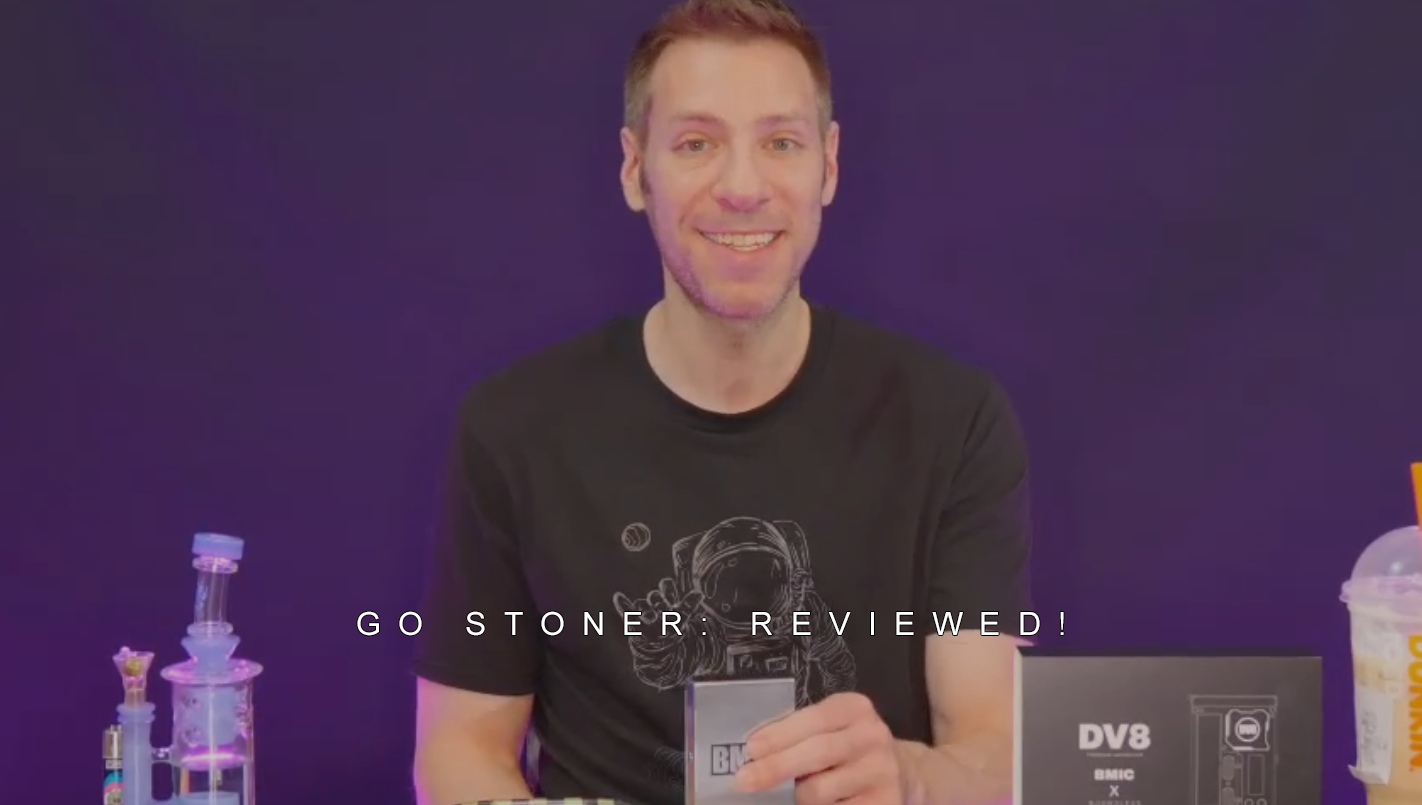 GO STONER
DV8 REVIEWED
" Let's sit back, relax and pack it up and get lit as we try some this new dry herb vape from BMIC Tech that is a game changer! "
Visit GoStoner's Channel here
FLAVOR BEAST
TASTE THE TERPENES AS NATURE INTENDED
DV8 enhances flavor profiles through precise terpene modulation. By carefully controlling terpene release, DV8 elevates the taste experience, unlocking the true essence of botanical ingredients.
FULL FEATURE & SPEC BREAKDOWN
Through precise temperature control and a carefully calibrated heating system, DV8 delicately releases the terpenes, preserving their intricate flavors and therapeutic properties


Zirconia Cooling Path
The material keeps your vapor cool allowing for longer pulls. Lift to access the ceramic chambe
Convection & Conduction Hybrid Heating with Ceramic Chamber
Our upgraded oven allows for a faster heat up time and is designed to be much more efficient at evenly extracting your material due to heat being reflected throughout the chamber as well as hot-air entering the oven
Proprietary Lipo-Battery
Our proprietary battery offers numerous benefits, including enhanced energy storage capacity, longer battery life, faster charging capabilities, and increased safety features
FULL RANGE TEMPERATURE CONTROL Powered by Boundless
Our proprietary temp-control chipset from Boundless technology allows you to precisely control your temperature level. 88-450 degrees fahrenheit
On-Board Storage Pods & Stir-Tool
Store your pre-grinded material in the storage pods when you're on-the-go for easy access. The on-board stir tool comes in handy as well when you need one
Type-C Fast Charge
You can enjoy the convenience of a fully charged vaporizer in just 40 minutes, making your vaping experience seamless and hassle-free
UNIQUE DESIGN
Our vaporizer stands out with its truly unique and innovative design, setting it apart from all others in the market
high-end Materials
Crafted with the finest selection of high-end materials, our vaporizer exudes luxury and durability, ensuring a premium vaping experience that surpasses expectations
HEAVY-DUTY MAGNETs
Share useful information about your product features.
strategically placed vent holes
Effectively dissipate heat and keep the chamber cool, ensuring a smooth and enjoyable experience
it's all metal
The DV8 boasts a truly unique edge with its sleek and eye-catching metal casing, elevating its aesthetic appeal to new heights
40 min
To fully charge to 100% | Type-c fast charge tech
5-6
Sessions on average per-charge (7-10 pulls per session)
HYBRID
Convention & Conduction heating with ceramic chamber
4 min
Session time before the device will auto shut-down
TORTURE TESTS
CAN THE DV8 HANDLE EXTREME ABUSE?
Our determination to push the limits of durability and performance is evident as we subject our vaporizers to a series of extreme torture tests. These grueling trials are designed to gauge their resilience, ensuring they can withstand the harshest conditions and meet the demands of most users. Our vaporizers are subjected to an array of challenges to ensure their reliability, functionality, and longevity. Through this relentless pursuit of excellence, we are certain that our vaporizers can handle (almost!) any test thrown their way.
WE USED THE SAME DEVICE FOR ALL THE TESTS | DO NOT ATTEMPT THESE TESTS WITH YOUR DEVICE
WATCH TORTURE TESTS VIDEO HERE
STORAGE PODS
ON-THE-GO CONVENIENCE
Say goodbye to messy transport. Our storage pods offer the ideal solution, allowing you to enjoy your flowers wherever life takes you. The on-board storage pods are a great option when you're out-n-about and want a quick, easy sesh. Just load them with your pre-grinded material, insert into the chamber, set your temp and enjoy.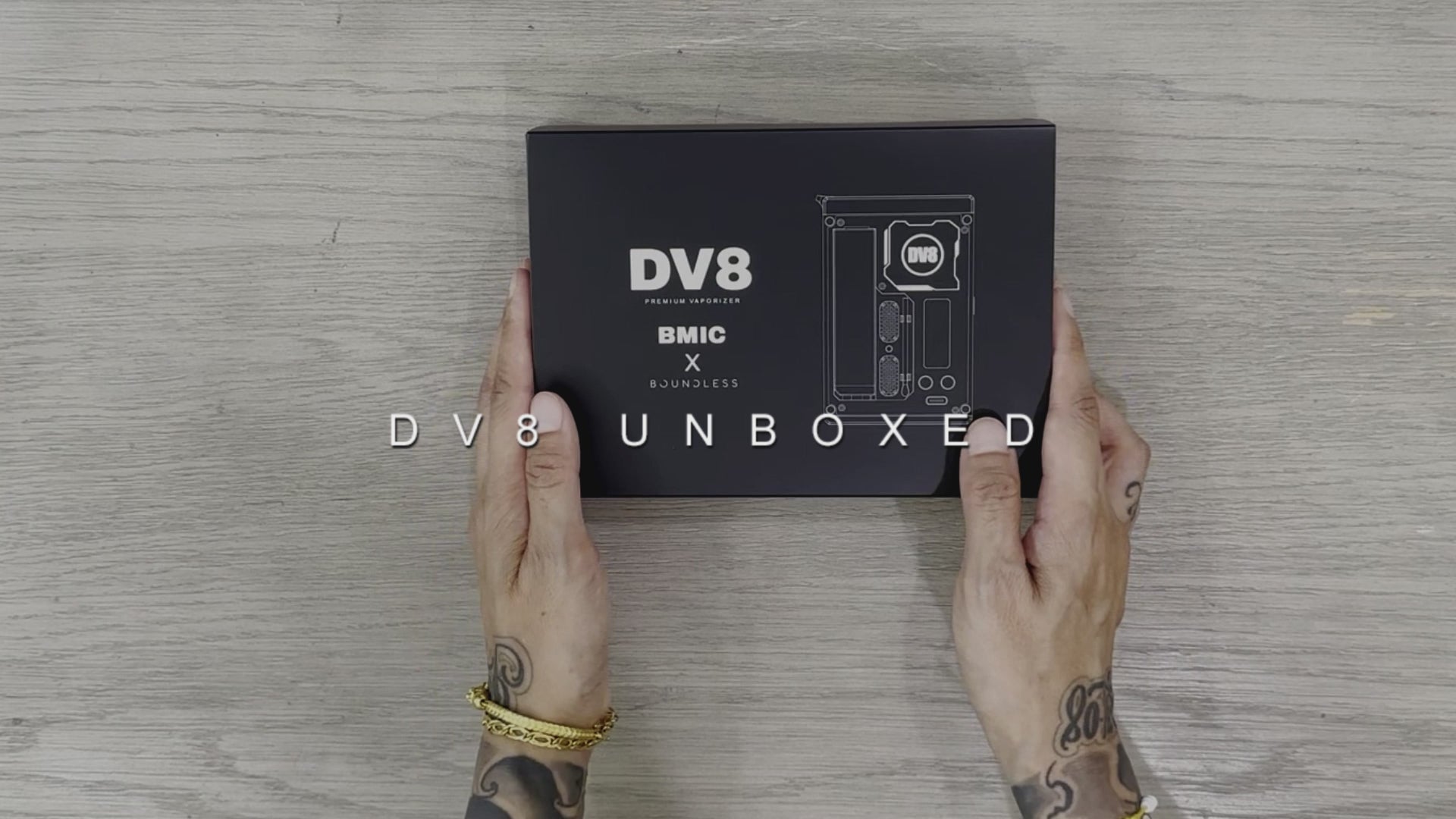 DV8 UNBOXED
WHAT'S INCLUDED
1 x DV8 Vaporizer
1 x Back-Cover
1 x Lipo-Battery
1 x Zirconia Drip-Tip
1 x Cleaning Brush
1 x Stir-Tool
1 x USB-C Charge Cable
5 x SS Chamber Screens
5 x SS Mouthpiece Screens
5 x SS Storage Pods
THE DETAILS
ZIRCONIA DRIP-TIP, HYBRID HEATING W/CERAMIC CHAMBER
The Drip-tip is made of Zirconia which is a ceramic that has a "metal-like" finish and heat-resistant properties. Not only does it look/feel sleek it will keep your Vapor cool allowing for longer pulls.
Get the best of both worlds with our device's hybrid heating system, seamlessly combining convection and conduction methods. This technology ensures that your materials are heated evenly and thoroughly, allowing you to savor every terpene and extract maximum flavor.
ELEVATE YOUR EXPERIENCE
FULL-RANGE TEMP CONTROL UP T0 464° F
Whether you prefer lower temperatures to savor delicate terpenes or higher temperatures for dense clouds, our device gives you that flexibility.